Patterson Lake - Dickinson, North Dakota

(September 2, 2000)

With all the stops we make, we from time to time come up with a bad one. This was one such stop. For starters, the weather was cool and rainy. Second, they charged a fee to enter the all but deserted lake area. But worst of all, the boat ramp was terrible. We learned our lesson here for not checking first, but the ramp literally dropped of just a short way into the water. We didn't know this until the front wheels dropped off the edge. With no other options, we had no choice but to ease on in, dragging the rear bumpers. No chance of getting out the way we came in!
The only person we saw at the lake (besides the guy charging to enter!) was walking along the shore. A failed attempt to come ashore on the bank left Amphi stuck in the muck. The guy I mentioned who was along the shore, Ron, jumped right in and helped us get free from the mud. Then we headed for a sandy beach, and Ron helped us come right up onto the sectioned off area reserved for swimmers.
A short drive up the beach, through the playground and picnic areas left us searching for a way to get Amphi out of the "no cars" areas which was sectioned off by wooden posts. Finally, two posts were found just wide enough to squeeze Amphi through to safety.
Bottom line is....we were so glad that Ron was there to save us, but I don't think we'll be swimming again in North Dakota any time soon!
---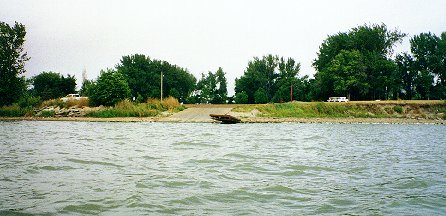 The ramp of terror!
Here's Ron who saved the day!
Home